YOUR HOTEL ROOM ON WHEELS!
PREMIUM OFF-ROAD CARAVAN & CAMPER MODELS THAT DONT SACRIFICE ON THE LUXURY
At Mobi Nomad, we offer premium caravan & camper models to cater to all ranges of adventure, from Caravan parks to the most remote off-grid adventures all across Australia. Our showroom is located just north of Perth with a range of models to suit your needs. If you're looking something new and unique that is sure to stand out from the crowds and go with you wherever you please, look no further than the range of Mobi Nomad Caravans and Campers! We look forward to talking to you soon.
YOUR HOTEL ROOM ON WHEELS!
PREMIUM OFF-ROAD CARAVAN & CAMPER MODELS THAT DONT SACRIFICE ON THE LUXURY
HELPING YOU FIND ADVENTURE

THE MOBI NOMAD CONTINENTAL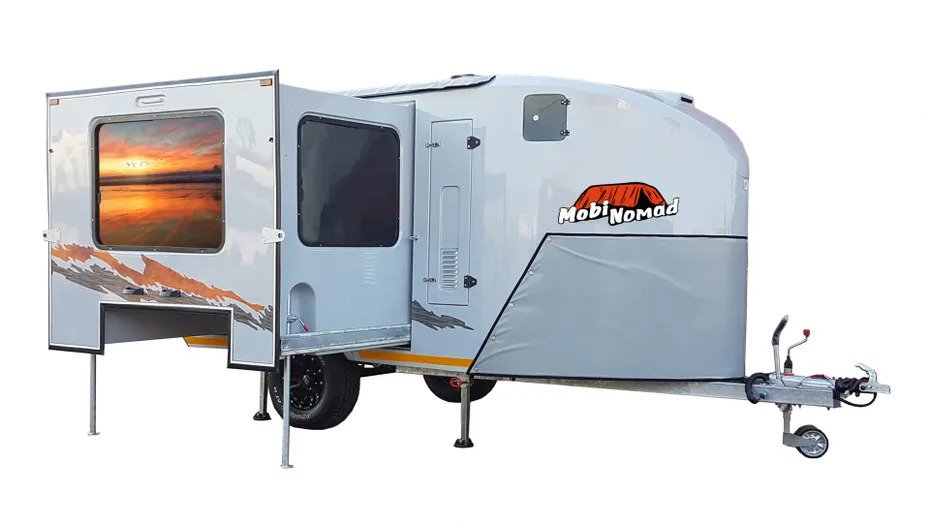 Once in a while, in a well-established industry, somebody comes up with a revolutionary idea that changes the landscape of the industry. This is what can be said for the new and exciting Mobi Nomad hybrid caravan. The Mobi Nomad can be described as a CARACAMPER as it has all the creature comforts of a solid roof caravan and the conveniences & features of a camper trailer. The luxury, full-size island bed with a hotel-grade premium mattress as well as the massive ensuite bathroom are unrivalled for a caravan in this class. If you are not impressed by the 12m2 of space in a 15ft caravan, then the fully equipped kitchen that is stocked with; cast iron pots, pans, cutlery, crockery, glasses, cups and even a wine cellar will surely change your mind!
To top it all, the Mobi Nomad is fully off-road, it will go wherever your vehicle can, simple as that! The Mobi's can be equipped so that you can take all your creature comforts with you when you head off-grid! The Mobi's hasve a host of 12v/240v options available that you can choose to perfectly suit your needs – From a basic 12v setup to keep the milk cold, right the way through to running your reverse cycle airconditioner and induction cooker off of Solar! Power is simply not an issue…
When it comes to shade and protection from the wind, we have 6 different awning options to choose from! Head over to the awnings page to see all that are available, we're sure you'll find exactly what you're looking for!
The ATM of 2000kg means it can be towed by almost all tow vehicles and with fuel prices through the roof, the aerodynamic shape leaves you with more money to spend on the fun things once you get to camp.
The unique Mobi Nomad stands out! it is an out-of-the-box concept that has been an absolute hit with the Australian market, you'll never be shy of compliments and questions when you're out and about!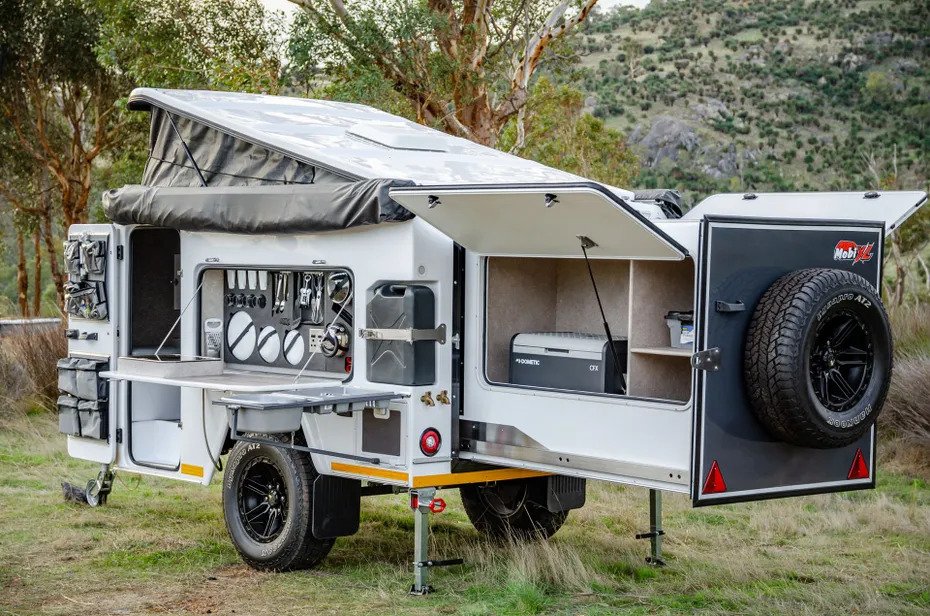 The brand new Mobi Nomad XL! This amazing Camper takes all the best parts of its bigger brother and packs them all into a smaller and lighter unit.
With a pop-top roof the XL boasts 1.95mtrs of headroom above the 2-person dining area it makes it a wonderful space to hang-out and enjoy your time taking in the panoramic views. The XL also has a full size hotel-grade double mattress making comfort the priority and giving you a wonderfull nights sleep!
With entry doors on both sides you can have full access to either the kitchen or shower/bathroom area while still being protected from the elements by the twin 180 degree Batwin awnings without having to climb over each other. Speaking of the kitchen – The XL comes fully stocked and ready to cook! No need to go out and buy another cook-set to keep in your camper when the XL kit comes custom fit and stowed securely to avoid those unwanted broken plates when your get to camp…
A fan of Off-grid? The XL slide out has room for up the a 75Ltr fridge, masses of storage room in the slide out, 214ltrs water tank, twin jerry can holders and lithium battery options so you can stay stocked & comfortable for those longer trips where you don't see the tarmac! The XL also comes fully off-road ready with tough suspension and great ground clearance meaning it can go wherever your tow-rig can.
Weighing in at 800kg is really one of the best points of the XL – You can tow it easily with just about any rig and the aerodynamic design means the speedo will still move quicker than the fuel needle!
We're super excited to get out in the XL and see this amazing country, Get in touch today, we are always happy to have a chat about the Mobi's!

Looks like a good option for caravan.

Love the designs - the Mobi Nomad Continental was the highlight of the Perth Caravan and Camping Show for me. Very friendly family run business 5*.

We have a Mobi. It is unbelievable. Absolutely love it.
GET IN TOUCH WITH OUR TEAM TODAY!
We cant wait to disucss your future Mobi Nomad with you, give us a call or email to chat or organise a viewing today!